As all young mothers can appreciate, pregnancy puts a lot of strain on your body and spirit and can be a time when you experience a lot of different mixed emotions. Post-pregnancy our bodies are changed and sometimes society puts a lot of pressure on women to restore their bodies to there pre-pregnancy state. This is unfortunately unrealistic as most women's bodies will not be exactly the same post birth.
We believe it is a much healthier vision to embark on a healthy happy lifestyle. We have put together a short list of some ways you can work on your body to help make it stronger and healthier post birth.
Step 1: Don't be too hard on yourself
The starting point of any self-improvement journey is compassion towards yourself. It's hard to achieve anything if you have someone continually criticising you — and often that person is yourself. You recently gave birth — that in itself is a massive achievement and deserves your own praise and compassion.
Understand that pregnancy takes its toll on the body and emotions — give yourself some breathing room and know that while recovering your shape is not instantaneous, it is certainly possible and can come with time.
Slow and steady wins the race.
Step 2: Plan a routine
It's simply not possible to recover your shape overnight. Diligence and consistency are the key. Human beings (including your young baby) thrive on routine.
One important key is exercise. With a young one by your side it's not always possible or easy to go out by yourself and get some exercise in the way you used to — so try to plan exercise activities that you can do together with your baby.
Pushing a pram uphill for a good 10-15 minutes at a steady pace is a great way to get your heart pumping while still enjoying one-on-one time with your baby, and they'll enjoy the fresh air.
Step 3: Fuel your body
Rearing a young child can take a lot of energy out of you. Your body has constant demands placed on it by things like:
Decreased sleep and more interrupted sleep

The need for constant focus and attention on your little one

Breastfeeding which requires more energy

Less time alone than you used to have

And that occasional bloodcurdling scream of your baby!
— These things all place an increased physical demand on your body.
Make sure to keep yourself well fuelled with proper meals (scheduled well with your good routine!) and appropriate snacks throughout the day. These will make sure that your body has sufficient energy to deal with the demands placed on it.
And don't forget to keep yourself well hydrated. Drink plenty of water it will also help keep the milk supply sufficient.
Step 4: Breastfeeding – great for you and bub
During pregnancy your body prepares itself for the breastfeeding process. Two primary ways in which it does that is to prepare the breast for milk production and increase your body fat percentage. These are actually related — did you know that when you breastfeed you burn calories?  So breastfeeding itself also helps your body return to its pre-pregnancy state.
Step 5: Get supported — Don't BOUNCE back into shape!
Last but not least, it's important to get great sports bra support. A properly designed and functional sports bra will prevent unnecessary bouncing. Support yourself and your breasts they will thank you for saving them from the potential ligament damage that can come from bounce.
At Cake Maternity we know very well how to spot a great supportive bra! Here are some important things to look out for:
Strong supportive moulded fabric, that will not stretch or lose shape

Bounce minimising panels

Strong comfortable straps for support

Wide back band for added support and control

Racer back design for extra support and lift

Drop down cups for easy feeding

Full cup coverage for extra support and less bounce

Flexible wire for great shape and added support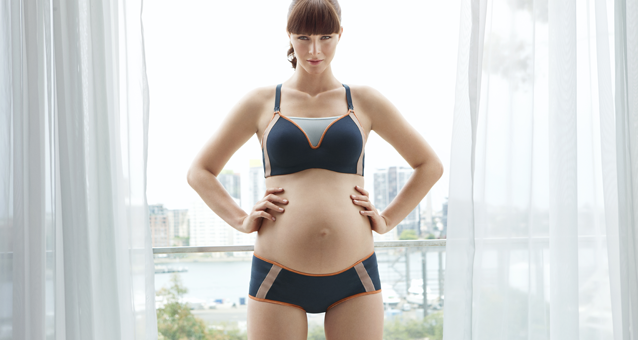 You can do it!
Some of the mothers we meet on our travels have really managed to look and feel good about their post-natal bodies. Rearing a family and being a mother is a wonderful experience, and it's great to have a healthy body to go with it!