There are lots of different body types, different daily activities and different fashion preferences for all women. It all depends on all of these factors, as to what the best nursing bra is for you. At Cake, we have the largest range of styles of nursing bras. So you are more than likely going to find something for yourself here.
Here are our recommended bras for every stage of pregnancy:
At Cake Lingerie we use high quality oeko tex certified fabrics and accessories. Our designs are very carefully thought-out to ensure the wearer gets maximum support, fit, function and versatility out of the garments. When you make a Cake Lingerie purchase you are making a great decision for all round satisfaction.
Best Padded Contour Nursing Bra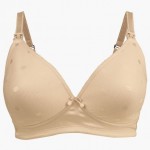 Cake Maternity's Mousse Padded Plunge Non Wire Nursing Bra is the winner.
If you're looking for a padded nursing bra that's cut low and offers versatility, you'll love the Mousse range of nursing bras. Those of you who like a little extra padding, you might find that most padded nursing bras make it difficult to pull down the cup for feeding. Cake's variety offered a great option with the good flexibility. Plus, it looks beautifully voluptuous on while still working nicely under clothing.
Most Feminine Nursing Bra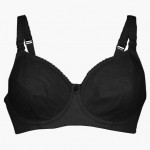 One of our fashion style's this season; Parfait Flexi Wire Lace Nursing Bra offers a great fit whilst being pretty.
The Cake Lingerie line features beautifully constructed, feminine nursing and maternity bras that are perfect for women who are who want to look and feel good together. Cake's matching bra and panty sets look like your best lingerie whether you are nursing or not. The elegant style of the Parfait maternity bra is a favourite. It features a full lace front with a cotton cup lining and cotton lined straps. It has a flexible under-wire for added support, easy drop-down cups for nursing, and six different sized closures in the back.
Ideal Comfort Nursing Bra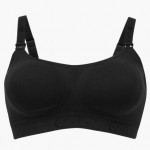 The Rock Candy Luxury Seamless Nursing Bra range of luxury seamless nursing bras is the ideal accompaniment.
During the initial stages of pregnancy, at hospital, at home or to the office, the Rock Candy Seamless bra is a must have. It features a buttery soft feel, which good support from it carefully engineered strength panels. Its double layer, removable foam pads, adjustable criss cross straps, decorative grip shoulder straps are some of the many features that make this bra a Must Have!
The Perfect Bra
The perfect bra in the Cake portfolio, for women with a D cup and up, has to be the Croissant Smoothing Flexi Wire Spacer Bra!
Without a doubt, the Croissant range of bras is as close as it comes to perfection. The softness and comfort of the spacer fabric, accompanied by its smooth t-shirt bra appeal – even in the big cup sizes is a revelation. If you're after support in the bigger cup sizes without the pointy of typical fuller cup nursing bras, don't look past Croissant. The surprise inner accents and charm are some of the nice added touches.
Refer to the Cake Fitting Guide, which takes you through the various stages of pregnancy and post, recommending product for each stage that will ideally suit your changing body conditions and needs.