How To Choose Maternity Swimwear?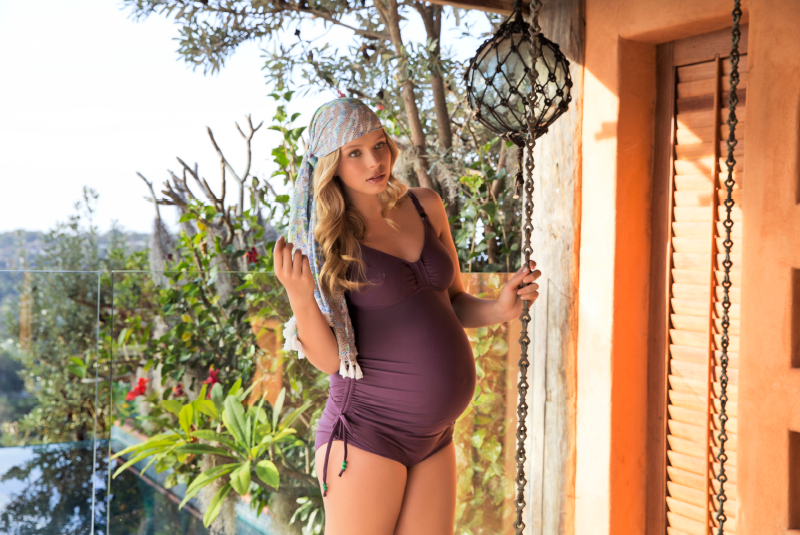 Your choice of maternity swimwear will depend on how active you are and your lifestyle.
Investing in maternity swimwear is a personal one. Regular bikinis and tankinis are not designed to hold a pregnant belly or to carry a heavier breast, which can result in discomfort and a less flattering look.
Considerations
The first thing you need to consider is your lifestyle, how often you will be wearing the suit and for what purpose?
1. A Tankini is a wonderful choice. The beauty of this style is that it is a two-piece and it will grow with you. The Tankini will provide more coverage than a bikini and depending on the colour or design is a flattering option for expecting mothers.
A Tankini is a wonderful choice for a busy mum, as it will provide a secure fit and modesty.
2. A one-piece is a more traditional style choice. They are better suited for an active lifestyle, running after children or swimming activities. The one-piece swimsuit will stay firmly in place and is less likely to slip off the shoulder providing the wearer with greater support.
3. A bikini is becoming a popular option by many women. There is no hiding in a bikini as your body will be out for all to see. This option is better suited for a more relaxed lifestyle and is a great style for women who do not want to invest in a maternity swimsuit as your body will not be restricted by excess fabric.
Features of a Maternity Swimsuit
Maternity swimwear has been designed for a specific purpose: To provide modesty, comfort, versatility and fashionable options for women during a time when style can be a challenge. Learn more about its features and benefits.
What to look for:
Fully adjustable straps for support
Flexible wire for added lift and support
Built in shelf for security and support
UPF 50+ fabric
Chlorine resistant fabric
Durable fabrication
Lined
Gathered side seams for room to grow
Adjustable sides
Racer back or cross over back design for security
Modest cut
Block colours to flatter
Avoid large prints and this will only make you look bigger
Drop down cups for feeding
Finding your fit
Swimsuit shopping is not as hard as you think it is. Most brands will have simple sizing guides that will help to guide you towards your recommended size.
Tips:
When choosing a swimsuit make sure it is comfortable. If it is not comfortable in store then it is only going to get less comfortable as your body grows into it
Make sure you have plenty of room to grow
Make sure it provides you with enough bust support and that you are fitting into it well. A swimsuit should fit like a bra. Your breasts should be fully encased, the wire should sit around the breast, the breast should not be compressed or squashed and it should give you great shape and lift
Choose a colour that flatters you and makes you feel beautiful
Flatter your shape
Short legs
– Choose a swimsuit with a higher cut in the leg. This will help to give you the illusion of a longer leg
Larger bust
– Choose a swimsuit with a flexible wire, provides breast separation, a built in shelf and strong fabrications. All of these components will help to provide added support and will flatter your fuller bust.
Smaller bust
– A halter neck style is flattering with a V neckline.
Wider hips
– Choose a suit that has block colour. A black or navy blue on the torso of the suit will help to minimize you hips. Choose a suit with an interesting bust line to help draw attention away from the hips.
Dressing your maternity swimwear
Pregnancy is a time to have fun and is a great excuse to get creative with your wardrobe.
Choose a black coloured swimsuit. This way you can add a range of different accessories to it to help lift the look and give you great style.
For the beach
Invest in a beautiful sarong
A great broad brimmed hat
Fabulous sunglasses
Cute flip flops or sandals
For dinner or lunch
Caftans are also a wonderful option to jazz up a swimsuit
Beautiful bracelets, rings or necklaces will help to give your outfit instant appeal
A cute sandal with bling