Luxurious Maternity / Nursing Sleepwear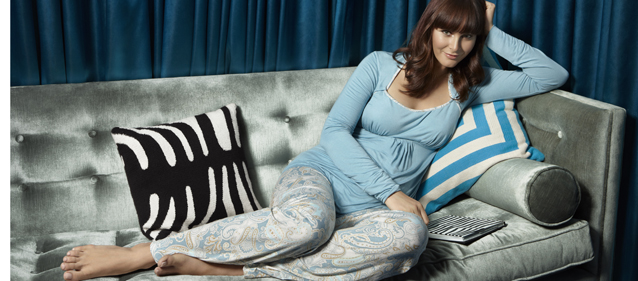 Cake Lingerie designs and manufactures a range of sleepwear that has been constructed especially for pregnant and nursing mothers.
All our maternity sleepwear is made from natural, breathable fibres. Our favourite fabric to use is modal. Modal is a soft, luxurious fabric that feels incredibly comfortable and lightweight to wear. The fabric drapes over the body and helps to keep you cool.
We also like to use a cotton modal blend. This fabric is also made from natural fibres and has the similar benefits to modal. Cotton modal will allow the skin to breath and keep you cool during the night. It is also soft and very easy to wear and is a popular choice by many.
Cake Lingerie pride themselves on using quality fabrications and accessories which provide superior comfort and reassurance during what can often be a challenging time in a woman's life. Whilst nylon blend and polyester nightwear can often be less expensive they can be hot, irritating, cause the body to itch, clingy and very uncomfortable. Purchasing one quality piece of nightwear is a much better investment than purchasing two cheaper options. If looked after a piece of Cake Lingerie nightwear will last and nurture you through your pregnancy and beyond.
The Cake Lingerie sleepwear range consists of nursing camisoles and matching PJ pant options, chemises and tank tops. All garments have built in shelves for added support, drop down cups for feeding and have been designed to flatter a pregnant and post partum belly.